Air Force Awards $95 Million in Construction Contracts for Ellsworth Project
– By #RCS Construction
DPEC & RCS Joint Venture is excited to be part of the construction projects located at Ellsworth Air Force Base in preparation for the B-21 stealth bomber! For more information Read the following article from the Rapid City Journal below.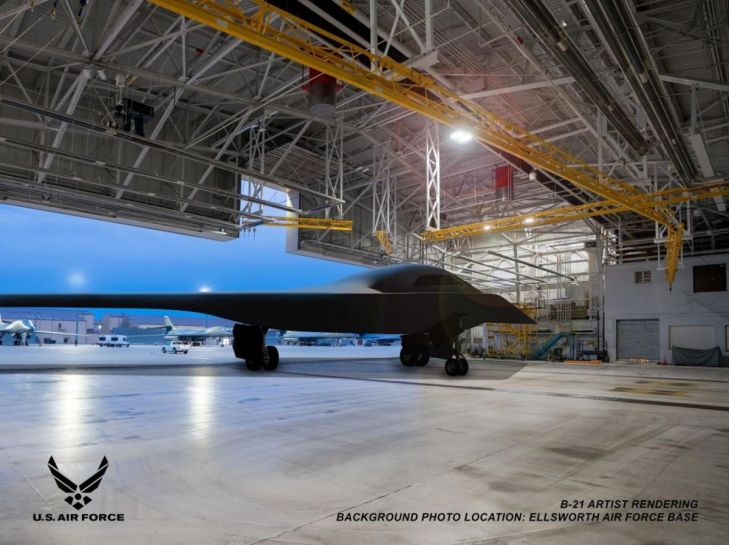 The Global Strike Command's artist's rendering of the new B-21 Raider at an aircraft hangar on Ellsworth Air Force Base near Rapid City (Taken from Rapid City Journal).
The U.S. Air Force has awarded $95 million worth of contracts to five companies for multiple construction projects at Ellsworth Air Force Base in preparation for the B-21 stealth bomber.
The latest award was announced Wednesday to DPEC & RCS Joint Venture, LLC — a limited liability corporation based in Eagle Butte. Records show the company was formed in 2020 as a partnership between Dakota Plains Electrical Contracting in Eagle Butte and RCS Construction in Rapid City.
Darrel Brotsky, the principal officer with DPEC, said he is excited for the opportunity with the Multiple Award Construction Contract, or MACC.
"The B-21 will bring a lot of work to the Air Force base and surrounding area," Brotsky said. "We anticipate the work will consist of everything from infrastructure to new building construction. Our team is ready for this opportunity."
The Journal left a phone message Wednesday for R.C. Scull, president of RCS Construction, seeking comment about the contract award.
DPEC & RCS Joint Ventures joins four other companies who have been awarded their collective piece of the $95 million Ellsworth project. The other companies include All American Construction Services of Rapid City; LaCreek Development Corporation of Martin; Quinn-Scull Joint Venture of Rapid City; and OK2 Construction of Cleburne, Texas.
The specific terms of the most recent contract for DPEC & RCS Joint Ventures are not currently known, as the U.S. government's System for Award Management, or SAM, was experiencing an outage Wednesday for "Contract Data Refresh."
However, the initial requests for proposals for the Ellsworth project were issued in late 2021. According to records, work includes general construction to include maintenance, repair, alteration, mechanical, electrical, heating/air conditioning, demolition, painting, paving, and earthwork for industrial and office buildings at Ellsworth Air Force Base.
Work is expected to be completed by May 31, 2031. The massive project is in preparation for the arrival of the B-21 Raider, a new stealth bomber that will eventually replace the aging B-1 Lancer.
Ellsworth AFB was officially named the Air Force's first base to receive the new aircraft on June 9. The B-21 has nuclear-strike capabilities and different needs for facilities on base. Security and infrastructure will be increased at Ellsworth as the B-21's arrival date approaches.
With the B-21 base established at Ellsworth, aircraft operations would increase by up to 15.8% and total flight operations would increase by 41.1% at the Powder River Training Complex. There will also be about 7,700 military members, spouses and children at the base.
U.S. Sen. John Thune, R-S.D., said the mission will result in 582 indirect jobs and $23,878,400 in economic activity in Rapid City and Box Elder. Approximately 4.3 million square feet of new construction and 1.7 million square feet of renovation will be conducted over the next several years in preparation for the B-21 mission.
The 28th Contracting Squadron at Ellsworth AFB is the contracting agency for construction activity.
Article from the Rapid City Journal
---
Last Modified: